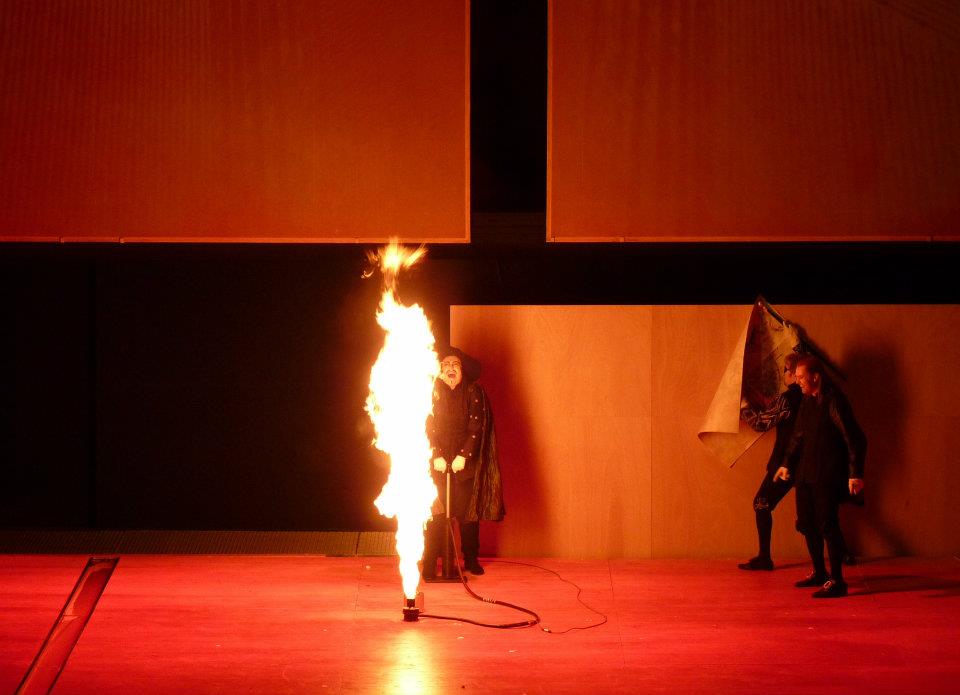 We got some good ones! Excuse my poor translating:
"
Clito (Andrew Finden) und Leonato (Sebastian Kohlhepp) zeigen hohe stimmliche Kompetenz und theateralisches Talent, das der Regisseur (der in Heidelberg "Otello" inszeniert) gehörig aus ihnen Herauskitzelt.
"
Clito (Andrew Finden) and Leonato (Sebastian Kohlhepp) show high vocal
skills and theatrical talent which the director (in Heidelberg "Othello" directed) duly teased out of them.
- Rhein-Neckar Zeitung, Matthias Roth
"Vom Karlsruhe Ensemble ergänzten kompetent Andrew Finden als Clito mit
beweglichem Bariton, Sebastian Kohlhepp als Leonato mit hellem, hut sitzenden lyrischen Tenor und Rebecca Raffell als Cleone mit sattem Mezzo das Ensemble."
"the ensemble was competently completed from the Karlsruhe Ensemble: Andrew Finden as Clito with flexible baritone, Sebastian Kohlhepp as Leonato with bright, hat sitting (?) lyric tenor and Rebecca Raffell, Cleone, with rich mezzo."
- Rheinpfalz, Karl Georg Berg
"Für die Lachnummern sorgen dann auch Alessandros verräterische Gefolgsleute: Drei Musketiere-Verschnitte, die als Mordkomplott-Schmiede buchstäblich mit dem Feuer spielen und so manches köstlich dahergesprungene Tänzchen wohl wagen. Auch diese Nebenrollen sind hervorragend besetzt: Die agile Altistin Rebecca Raffell in der Hosenrolle des Cleone, der warm temperierte Bariton des Andrew Finden alias Clito – vor allem aber der strahlkräftige, weiche Tenor des Sebastian Kohlhepp, der den Leonato singt."
"The laugh-numbers were provided then by Alessandro's treacherous followers:
Three Musketeer-like, who literally forged a murder plot playing with fire, and some delicious spritely dances well dare. These supporting roles are also filled well: the agile alto Rebecca Raffell in the trouser role of Cleone, the hot-tempered baritone Andrew Finden alias Clito - and especially the bright strong, supple tenor of Sebastian Kohlhepp, who sings the Leonato. "
- KlassikInfo, Ursula Böhmer
http://www.klassikinfo.de/Alessandro-Karlsruhe.1458.0.html
"In bester stimmlicher wie darstellerischer Manier fügten sich die Altistin Rebecca Raffell (Cleone) sowie die Herren Andrew Finden (Clito) und Sebastian Kohlhepp (Leonato) als Intriganten in die überschaubare Handlung ein."
"The best vocal and performing manner is turned out by the alto Rebecca Raffell (Cleone) and men Andrew Finden (Clito) and Sebastian Kohlhepp (Leonato) as schemers in a manageable action."
- Der Neue Merker, G. Hoffmann
"Die mazedonischen Fürsten Klytus, Leonatus und Kleon (Andrew Finden, Sebastian Kohlhepp und Rebecca Raffel) sorgen zwar, in der Anmutung der drei Musketiere, für Witz und Tempo auf der Bühne… Wenigstens werden die Auftritte der dieses Trios jedes Mal zur unterhaltsamen Comedy-Nummer; stimmlich tut sich vor allem Andrew Finden hervor, darstellerisch Rebecca Raffell."
"The Macedonian princes Klytus, Leonatus and Cleon (Andrew Finden, Sebastian Kohlhepp and Rebecca Raffel) admittedly ensure, with the appearance of their three musketeers, for wit and pace on the stage … At least the performances of this trio, each time, is an entertaining comedy number; excels vocally especially Andrew Finden, dramatically Raffell Rebecca. "
- Pamina Magazin, Christine Gehringer
http://www.pamina-magazin.de/categories/05kritik/120219_Alessandro.html
"Dann gibt es die drei Musketiere, denen Bariton Andrew Finden, Tenor Sebastian Kohlhepp und die Altistin Rebecca Raffell spielfreudiges und sängerisch untadeliges Profil geben. "
"Then there are the three musketeers, which baritone Andrew Finden, tenor Sebastian Kohlhepp and alto Rebecca Raffell  give a playful and vocally impeccable profile."
- Opernnetz, Eckhard Britsch
http://www.opernnetz.de/seiten/rezensionen/kar_ale_bri_120217.htm
"Aus dem Ensemble des Badischen Staatstheaters belegen Andrew Finden als Clito, Sebastian Kohlhepp als Leonato und Rebecca Raffell als Cleone stimmlich und darstellerisch das hohe Niveau des Hauses. In den Choreographien von Michael Bernhard sorgen sie für zahlreiche komische Momente und wirken eher ungefährlich, obwohl sie als Rebellen den hochmütigen Alessandro stürzen wollen. Raffell überzeugt mit sehr tiefem Alt und lässt im Spiel kaum merken, dass es sich um eine Hosenrolle handelt...  Finden gefällt mit kräftigem Bariton als Clito, der sich Alessandros Hochmut nicht unterordnen will, und Kohlhepp mit klarem Tenor als Leonato, der gemeinsam mit Clito im ersten Akt Cleone für dessen Unterwürfigkeit verspottet."
"From the ensemble of the Baden State Theatre Andrew Finden as Clito, Sebastian Kohlhepp as Leonato and Rebecca Raffell as Cleone showed vocally and performance-wise the high level of the house. In the choreography of Michael Bernhard, they provide many comical moments and look rather harmless, although they as rebels want to overthrow the arrogant Alessandro. Raffell convinced with her very deep alto, and in the performance one might not realise it is a trouser role … Finden pleased with a powerful baritone as Clito, who will not submit to Alessandro's pride, and Kohlhepp with clear tenor as Leonato, along with the Clito and in the first act, Cleone for submission had fun."
- Online Musik Magazin, Thomas Molke
http://www.omm.de/veranstaltungen/musiktheater20112012/KA-alessandro.html
"Andrew Finden, Sebastian Kohlhepp und Rebecca Raffell liefern als
Intrigantentrio herrliche Slapstick-Einlagen."
"Andrew Finden, Sebastian Kohlhepp and Rebecca Raffell deliver wonderful slapstick as
the scheming trio. "
- Suedkurier (dpa), Martin Roeber / Focus.de
http://www.focus.de/kultur/kunst/theater-schwere-kost-auftakt-der-haendel-festspiele_aid_715441.html
"Die drei Sänger waren mit sichtbarer Freude dabei, was sich auch aufs Publikum übertrug – spontan kam es hier zum stärksten Szenenapplaus. Auch gesanglich ließ die Leistung dieser Ensemblemitglieder aufhorchen: der schön und ausdrucksvoll geführte Bariton von Andrew Finden…"
"The three singers were with visible joy in what was also transmitted to the audience - here, spontaneous applause was the strongest. Also vocally attention grabbing was the performance of these ensemble members: the beautiful and expressive baritone of Andrew Finden … "
- Dich teure Halle
http://dich-teure-halle.blogspot.com/2012/02/alessandro-22212-handelfestspiele.html
I'm guessing there'll be some in the periodicals next month too..