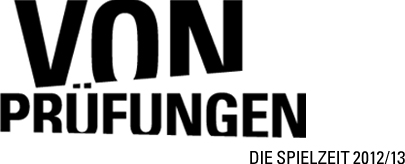 The Badisches Staatstheater Karlsruhe (where I'm 'fest') announced their 2012/13 season this week. It's a very exciting season, with the theme of Von Prüfungen (Tests):
The new productions are:
TANNHÄUSER, Richard Wagner  (director Aaron Stiehl)
THE THREE MUSKATEERS, Ralph Benatzky (director Bernd Mottl)
LA VESTALE, Gaspare Spontini  (director Aaron Stiehl)
THE TRIUMPH OF TIME & TRUTH, Georg Friedrich Händel (director Sam Brown)
THE TRIUMPH OF BEAUTY & DECIET, Gerald Barry (director Sam Brown)
BORDER (youth opera) Ludger Vollmer
LA FILLE DE REGIMENT, Gaetano Donizetti (director Aurelia Eggers)
THE PASSENGER (German Premiere), Mieczys?aw Weinberg (director Holger Müller-Brandes)
PETER GRIMES, Benjamin Britten (director Christopher Alden)
And revivals of:
RITTER BLAUBART, Offenbach
RIGOLETTO, Verdi
ROMEO & JULIA AUF DEM DORFE, Delius
WALLENBERG, Tüür
CARMEN, Bizet
DIE ZAUBERFLÖTE, Mozart
LES TROYENS, Berlioz
ALESSANDRO, Handel
TOSCA, Puccini
DER RING DES NIBELUNGEN, Wagner
DINO UND DIE ARCHE, Leininger
HÄNSEL UND GRETEL, Humperdinck
ROBIN HOOD,Schwemmer
LE NOZZE DI FIGARO, Mozart
While I can't really say definitely what I'm doing, let me just say: Mozart & the sea. I'm rater excited! There's quite a number of productions being carried over from this current season.
I'm also doing a Liederabend with fellow Aussie, Kate Tier, on the 27.10.2012, where I'll be premiering a new cycle by Anno Schreier