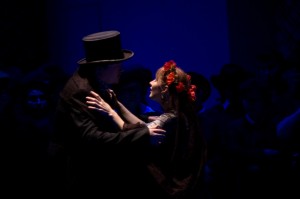 Our production of Romeo & Julia got a reall good write-up in the New York Times yesterday:
Happily, the conductor Johannes Willig and the theater's orchestra rose handsomely to the challenge of realizing Delius's rich orchestral textures.

The singing too was more than adequate. Ekaterina Isachenko brought a gleaming lyrical soprano with a touch of Slavonic heft to Vreli's music. The tenor Steven Ebel, though the voice is a little light, sang stylishly as Sali, and the boy soprano Tom Volz was excellent as the child Sali. Also fine was the baritone Armin Kolarczyk, as the mysterious but benign Dark Fiddler, rightful owner of the disputed land. Edward Gauntt and Lucas Harbour gave stalwart performances as the fathers Manz and Marti.

With "A Village Romeo and Juliet" Karlsruhe does honor both to the Delius anniversary and to itself.
Surprisingly, for such a small (and off-stage) part, I got a mention in a review in the Rheinpfalz paper:
Das gute Niveau die Protagonisten setzte sich bein den kleineren Partien fort: … Andrew Finden und Eleazar Rodriguez als stimmungsvolle Schiffer, die als  Todesboten das verklärte Ende der Liebenden begleiten..
[The smaller roles also sat at the good level of the protagonists: ... Andrew Finden and Eleazar Rodriguez as atmospheric boatmen who accompany, as messengers of death,  the glorified ending of the lovers...]